The home of imabari towels
Imabari is located in Ehime Prefecture on Shikoku, the smallest of Japan's main islands.
Nestled between the Shikoku Mountains and the Seto Inland Sea, the region is blessed with a temperate climate.
Shikoku is gaining popularity as a tourist destination for its 88 Temple Pilgrimage and the locals follow a long tradition of hospitality to pilgrims. Imabari is known for its hospitality and generosity – citizens continue to donate food, money and other necessities. Imabari is also the birthplace of Imabari towels, which are a household name in Japan.

About us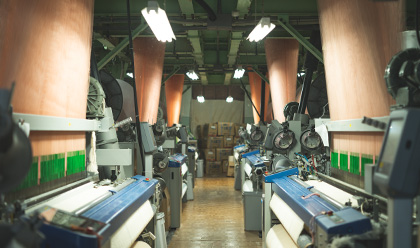 About Murakami Pile
Murakami Pile Co., Ltd. was founded 53 years ago. We handle everything from towel production to sales. In addition to OEM projects, we have developed our own brand, MiRT. We are actively expanding our business within Japan and overseas to make the benefits of Imabari Towels even more widely known.
Bland concept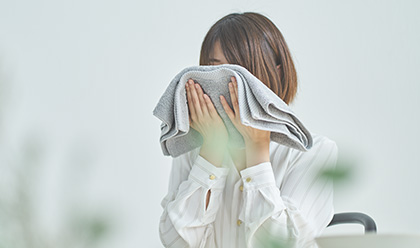 Lift your spirits, brighten your home
Our daily lives are full of routine, yet it is only natural that our moods change like the weather – from bright as a sunny sky to dark and gloomy as a rainy day. When you feel tired or downcast, everyday pleasures can revive your mood: indulging in a sweet treat or relaxing in a hot bath at the end of a long day.
Take the comfortable feeling of getting into a freshly made bed – there a soothing quality about it beyond simple warmth that calms you and restores your spirits.
Murakami Pile stands for this quality – there is something about our towels that makes you feel like humming a tune just having them in your home. Our towels will refresh you every day and brighten up your life – this is the feeling we hope to share in our brand concept.

Logo mark
Excellent Water Absorbency and Safety are the Marks of an Imabari Towel.
The imabari towel brand mark and logo are only included on products that meet the independently developed quality standards of Imabari, Japan's largest center of towel production.
PRODUCT
Imabari area towel producers make use of underground water from the Soja River, which has its source on Mount Takanawa,
and other high-quality water sources in order to achieve soft fiber textures and vivid color expression. They have utilized these advantages and further refined their dyeing techniques to transform Imabari into the largest towel production region in all of Japan.
One of the independent quality standards established by the Shikoku Towel Industrial Association states
that "a section of the towel must start sinking within five seconds of being placed in water" (sink test), which demonstrates that
the towel can absorb water from initial usage without being washed first.
Imabari towels quickly absorb sweat, water and other liquids, won't become clingy when used for wiping down one's body after getting out
of the bath or wiping off sweat, and are gentle on the skin.
COMPANY PROFILE
Trade name

MURAKAMI PILE CO.,LTD

Representative
Director

Masayoshi Murakami

Founding

April 1967

Establishment

October 1960

Capital

\10 million

Business
Activities

Towel manufacturing

Products

Various types of original towels
Customer-order name-inscribed towels
Sales promotion towels
Business-use towels
Gift products

Imabari
Sales Division

1881 Ko, Kuo, Onishi-cho, Imabari, Ehime
799-2201
TEL: +81-898-53-3322 / FAX: +81-898-53-4618

Osaka Sales
Office

Maruzen Bldg. #405 2-4-3 Minamihonmachi,
Chuo-ku, Osaka
541-0054
TEL: +81-6-6262-4455 / FAX: +81-6-6210-4477

Factory

180-2 Ko, Oka, Namikata-cho, Imabari, Ehime
799-2108
TEL: +81-898-52-2211 / FAX: +81-898-52-2271
CORPORATE HISTORY
Apr. 1960

Founded in Imabari as Murakami Shokufu Kojo with 10 looms

Jun. 1963

Ten additional Toyota looms introduced

Oct. 1966

Six Toyota automated "Super Loader" (dobby) looms introduced

Oct. 1967

Incorporated as Murakami Pile Co., Ltd.

Oct. 1968

Delivery center built in Onishicho-kuo, Imabari City

Oct. 1983

Six high-speed Rapier looms introduced at the Head Office Factory

Aug. 1987

New sales office built at the Onishicho-kuo Delivery Center, relocated, and operations expanded

Oct. 1988

Two Toyota Sulzer looms introduced

Aug. 1989

Imports from China begun

May. 1990

Textile information processing equipment and fabric design system introduced

Aug. 1990

KYB-type direct Jacquard weaving equipment introduced

Sep. 1992

Towel Printing Plant 工場法恩綿製品有限公司 established through a joint investment with 中国青島美好巾被服イ分有限公司

Oct. 1998

Six Rapier looms introduced at the Head Office Factory

Feb. 1999

"Eco-Towel" becomes a registered trademark

Jul. 2002

Onishicho-kuo Delivery Center renovated and expanded

Jan. 2006

One Konica Minolta inkjet printer introduced

Aug. 2006

Osaka Sales Office opened

Jun. 2011

Towel composition design simulation system introduced

Feb. 2012

New-model warping machine introduced

Sep. 2012

Two Toyota JAT 710 Air Jet looms introduced

Apr. 2014

Two Toyota JAT 710 Air Jet looms added

Jun. 2015

Two Toyota JAT 710 Air Jet looms added

Aug. 2017

Three Toyota JAT 810 Air Jet looms added

Nov. 2019

EAT textile design software introduced

Mar. 2020

Konica Minolta NassengerPRO120 inkjet printer added

Jun. 2020

Toyota JAT 810 Air Jet loom added